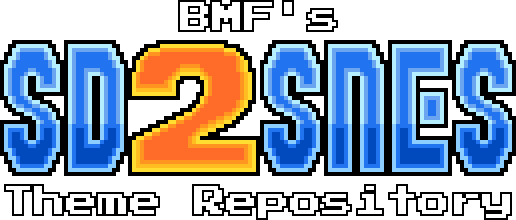 This is a collection of custom themes I've made for the sd2snes flash cartridge.
For use with firmware version 1.10.3 (original sd2snes and Mk.III/Pro). Please read the included README.TXT before using these themes!
Update Log (last update: 12/13/19)
Preview
Description/Notes
Download

The Legend of Zelda: A Link to the Past

This is it! The Master Sword!
... ... ...
No, this can't be it... Too bad.

Vaporwave

If the sd2snes were introduced in 1984, it probably wouldn't have looked like this.

Super Mario Bros. 2

A gift from the land of Subcon.

ZSNES

The theme of choice for Super Mario World hackers everywhere. Snow effect not included.

Snes9X

Better than ZSNES, but not quite as aesthetically pleasing.

Super Nintendo Entertainment System

Known as the Super Famicom in Japan.

Super Famicom

Known as the Super Nintendo Entertainment System in the rest of the world.

Quartet

DESTROY THE BOSS! ONLY A KEY OPENS THE DOOR!
Preview
Description/Notes

Retro Pals

Created for my good buddies Danny and Alex, the Retro Pals! Largely based on the Vaporwave theme.

WoopVonWoop

A powerful theme for a powerful streamer. Woop!